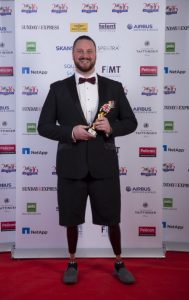 Background
Former Lance Corporal Clive Smith, served with 33 Engineer Regiment as an EOD Technician, working as part of the Counter-Improvised Explosive Device Task Force (C-IED).
On his second tour of Afghanistan in 2010, Clive was lead man on patrol in Helmand Province Afghanistan, when he stepped on an improvised explosive device. It threw him 30ft into the air, resulting in him losing both of his legs and multiple injuries.
Clive's heart stopped twice on the journey back to the Queen Elizabeth Hospital in Birmingham. After waking up from his induced coma, he then had the monumental task of recovery, learning to live life as an amputee in the civilian world. His journey of learning to walk again began.
On-Going Recovery
In the beginning of 2016, Clive underwent revolutionary surgery that took him to the other side of the world, to Sydney, Australia where he underwent a procedure of Osseointegration (Direct Skeletal Fixation).
Recognition
In April 2016, Clive was awarded the 2016 Inspirational Award, at The Soldiering On Through Life Trust. It's a national recognition award for the Armed Forces Community.
His award was justified by the outstanding commitment he had shown to his recovery and his dedication to helping other wounded injured and sick military personnel.
Clive has become an ambassador for Troop Aid, the charity that supports our injured troops. He is one of the Band of Brothers for Help for Heroes. Clive is so well thought of in his home town of Cannock, Staffordshire, that the local District Council unveiled a brand new housing complex in his name, in honour of the sacrifice he made.  Additionally, Clive was asked to be the Leading Ambassador for the Wolves in the Community Trust. This is his local football team's charity, that helps underprivileged children succeed in football in the UK and overseas.
What Clive Offers
Clive will captivate, motivate and inspire any audience. His story is truly unique and compelling – like nothing you will have ever heard before. He is driven with a passion to succeed and inspire in life.